Is the sky the limit? We may think so, but with buildings competing to be the tallest in the world – that title currently belongs to the Burj Khalifa in Dubai – new technologies are needed to build skyscrapers higher and bigger. It's quite literally a race to the top, and according to the Knight Frank Global Cities Index 2017, these are the five new trends in building towers that reach for the skies:
New Elevator Technology
German multinational conglomerate Thyssen-Krupp is developing a MULTI elevator system prototype that – get this – has no cable. It is based on magnet technology, which would eliminate the need for a counterweight, freeing up internal space for other uses. Magnetic levitation – think maglev trains – and conjoined elevator shafts will enable it to propel 'cars' through shafts running horizontally as well as vertically. This could lead to exciting new mixed-use skyscraper complexes in the future, where travel between offices, retail, convention centres and transport hubs is fast and seamless.
We imagine having elevators like this would mean that spies would have to find another way to get up (or down) a building. Also, remember the elevators that moved horizontally in the Harry Potter movies? The future is magical indeed.
New Materials
Cross-laminated timber is fast establishing itself as a quicker, greener, and cost-effective alternative to concrete or steel structural frames. Mass timber panels are produced by gluing layers of lumber tigether, resulting in a material that can erect buildings that are just as strong and fire-resistant as steel and concrete, yet can be drilled like wood and weigh 2.5 times less. Whilst engineered timber has been widely implemented, the race is now on to construct the next generation "Woodscraper", with various proposals in the pipeline.
Let's just hope there are no undiscovered species of giant termites out there.
New Construction Techniques
Modular offsite construction is an accelerating trend. In 2015, Chinese development company Broad Sustainable Building (BSB) built the world's tallest 57-storey flatpack tower in a record 19 days, or three storeys per day. Their goal is to build the world's tallest skyscraper using flatpack technology. Even though it may be a while before that goal becomes reality, this alternative building method could transform the construction industry, offering a shorter timeline, less waste, and possible cost savings.
Meanwhile, you could 3D print your own compact little home for $10,000.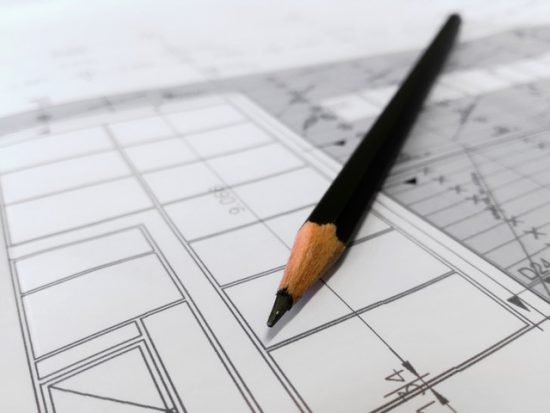 Biophilic Design
Buildings are no longer simply tall structures, but are increasingly recognised as dynamic environments, where the impact of office design has a direct bearing on occupant productivity, health, and well-being. As the world population continues to urbanize, access to green spaces, views to nature, and abundant daylight are of increasing importance. Sky rise greenery, in the form of roof greening, vertical green walls, and sky gardens has become a popular way for developers to differentiate and attract tenants, and tenants to retain talented staff.
For example, Forest City is a prime example of a future development that aims to become "a city within a garden" – a harmonious combination of greenery and technology. Besides that, the Malaysian Green Building Index (GBI) is also an important part of increasing awareness about green buildings in Malaysia. Going global, we found this interesting list of 10 greenest skyscrapers in the world.
Stability & Aerodynamics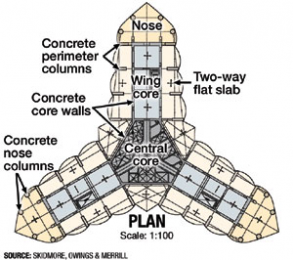 Super high skyscrapers must be able to withstand the powerful winds at high altitude, in addition to tolerating earthquakes. In the 32 years between the completion of the original World Trade Center (in Manhattan) and Taipei 101, there was only a 22% in height. In 2010, the development of the buttressed core structural system enabled the world's tallest building, the Burj Khalifa, to skyrocket 2,716 feet, surpassing Taipei 101 by more than 60%. This type of design gives buildings a stable tripod-like stance with limited loss of space, redefining height possibilities for future skyscrapers. The buttressed core is being implemented in the currently-under-construction, soon-to-be tallest building Kingdom Tower (also known as Jeddah Tower) in Saudi Arabia, set to reach 3,280 feet.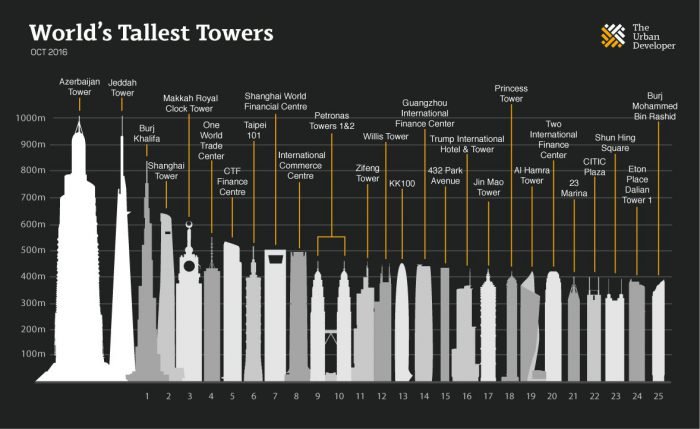 So, next time you crane your neck to stare up in awe at the KLCC Petronas Twin Towers or KL Tower in front of you, remember that a whole lot of technology and effort goes into constructing some of the tallest buildings in the world. 😉