Rubbish carelessly thrown on the ground, overflowing from bins and rubbish bags strewn on the floor with their contents spilled out are, all too sadly, a common sight in most parts of Malaysia. Last year, it was announced that a new rule in waste management would be implemented in Malaysia, which required Malaysian households to separate their rubbish into different categories before collection or dumping. Fast forward several months into July 2015, and it was recently announced that the implementation of mandatory separation of household solid wastes will come into effect on September 1, 2015, starting with Kuala Lumpur, Putrajaya, Pahang, Johor, Melaka, Negeri Sembilan, Perlis and Kedah.
Note: Check out our Waste Separation Infographic for a detailed visual guide! 😀
Therefore, in preparation for the waste separation exercise that will be required of us starting in September, we've come up with a simple guide to aid and inform you about how it's actually really easy to do, and best of all, help to save the environment in the process.
(Scientists have actually discovered a planet quite similar to Earth, but it's 1200 light years away and besides the point here, so basically we only have this little blue marble to depend on for the foreseeable future.)
First, some background and context of why the new ruling has to be implemented needs to be addressed.
Some of the most often-cited reasons (or excuses) for not recycling include:
Distance to recycling centres ("The recycling centre is too far.")
Lack of space ("My house is too small for so many rubbish bins.")
Waste of time ("I don't have time to sort out all my rubbish.")
Ignorance ("I have no idea what items can or cannot be recycled.")
Indifference ("Why should I bother separating my rubbish?")
Many people have the impression that they will need to prepare another 3 different-coloured bins like the ones taught during environmental health lesson in school, in addition to the general waste bin, to implement the waste separation. Consequently, more space will be needed to place these bins.
Now to the sorting and categorizing part. These are the most common categories for recycling:
Plastic
Paper
Glass
Metal
Clothing
Electronics & Electricals
Food Waste
Garden (Organic) Waste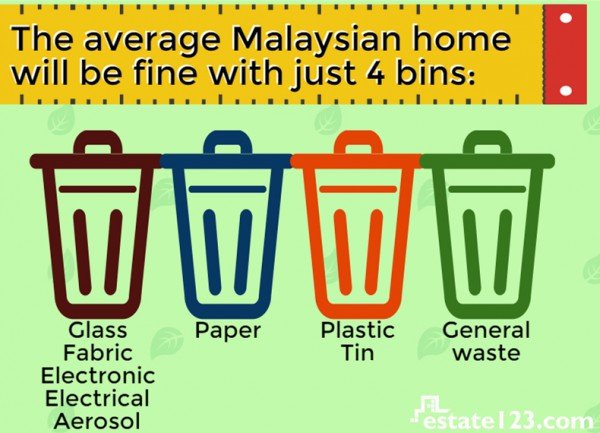 Most homes are suggested to prepare 4 basic compartments to cater to different categories of waste in order to make rubbish collection easier. However, household waste separation does not require more bins, just a little bit of extra consideration when throwing away things and a bit of creativity to transform small baskets, pails or boxes into rubbish bin alternatives. A good example are the Japanese, who are well-known for living in small homes but are able to actively and effectively adopt the waste separation practice, making Japan one of the countries with the highest recycling rates in the world.
In fact, the basic rules – for now – regarding the waste separation practice is simply to place recyclable items in separate transparent plastic bags so that they can be easily identified by rubbish collectors, while regular waste (organic waste) such as food can be placed into regular plastic bags.
Update 17 May 2016: SW Corp Malaysia has announced the compound fine rates for those who fail to properly separate their household waste! The amount for landed and high-rise properties is different, and ranges from RM50 to RM500 (for now). 
It's all well and good to say that saving the environment is a good thing and should be practiced by everyone if possible, but when that doesn't work, a little 'incentive' might do the trick. A penalty or fine of RM5o to RM500 will be imposed on those who fail to comply with the waste separation guidelines, which will take effect starting from June 1, 2016 after a one-year period for households to get used to the waste separation system, and for the authorities to receive feedback and monitor the progress of the new ruling.
Time to get your plastic bags (transparent and non-transparent) ready and flex your recycling muscles for September 1!
You can view the full Guide to Waste Separation infographic here.