As the name suggests, real estate investment trusts (REITs) are investment vehicles that have at least 50% of its total assets in real estate, whether through direct ownership or a single-purpose company whose principle asset comprises of real estate properties. Just like how there are different types of properties, likewise there are different types of REITs. Some REITs specialise in one type of asset class while others offer a mixed portfolio. In Malaysia, most REITs are a combination of different types of real estate assets (diversified), although many are simply categorised by their main asset class.
Retail REIT
Some of the more well known retail REITs in Malaysia are CMMT (Sg Wang, The Mines, Tropicana City Mall, etc), Hektar (Subang Parade, Mahkota Parade, etc), IGB (Mid Valley, The Gardens), KLCC, Pavilion, and Sunway. In fact, most REITs are involved in shopping malls and freestanding retail properties. The main source of income for retail REITs is the rent collected by tenants of their shopping malls. Retail REITs are a fairly safe choice for investors, because even in a weak economy, retail rentals don't really drop and occupancy in most popular malls remain high, which means stable income and distributions. However, investors do have to look out for huge incoming supply of retail space, especially in the Klang Valley, which can mean oversupply. If you want to see how a particular retail REIT is doing, just take a walk through their mall.
Healthcare REIT
When it comes to healthcare REITs in Malaysia, Al-Aqar REIT will be the first that comes to mind, as it has the KPJ hospitals and medical centres under its wing. Healthcare REITs typically have long leases with hospitals and other healthcare properties, around 15 to 20 years, and KPJ medical centres are located in strategic locations in major cities and towns throughout Malaysia. Besides, no matter how bad the economy is, people still need to take care of their health, therefore healthcare REITs are definitely one of the most stable and lucrative ones available.
Office REIT
Office REITs invest in, what else, office buildings or towers. They receive rental income from tenants who have usually signed long-term leases. Examples of office REITs in Malaysia include Tower REIT, UOA and AmFirst. Unlike financial centres like Hong Kong or Singapore where prime office space is constantly in demand, office REITs are considered the least stable of REITs you can invest in Malaysia, as there is currently an oversupply of office space in the Klang Valley, which is rather obvious when you see the amount of vacant office space and incoming supply in the next few years. In addition, many companies don't see the need to be based in the city centre, preferring suburban locations due to smoother traffic and lower rent. Due to the low demand and high supply, office rental yields may drop substantially, significantly affecting payouts.
Hospitality REITs
These are usually made up of hotels, resorts and serviced residences, with occupancy rates based on tourist arrivals. YTL REIT (formerly Starhill REIT) immediately comes to mind when it comes to hospitality REITs are mentioned, although Sunway REIT is also worth a mention.
Besides the ones listed above, there are also
Mortgage REIT – invest in mortgages instead of physical real estate
Residential REIT – own and operate multi-family, multi-storey residential buildings such as apartments, condominiums, high-end and luxury high-rise residentials.
Diversified REIT – the REIT owns properties from many different asset classes
Industrial REIT – these can be loosely categorised into general industrial properties and warehouse/storage properties; examples include Atrium REIT, Axis REIT and AmanahRaya REIT
Plantation REIT – Malaysia was the first country to introduce plantation REITs; instead of relying on rental yield like most REITs, plantation REITs' economic success depend on the yield from crops planted on the land. However, the REIT has now been privatised.
Infrastructure REIT – ownership of real assets is in the form of infrastructure such as railroads, electric and gas transmission and distribution, cell towers, storage tanks, various alternative energy infrastructure, etc.
Islamic REIT (I-REIT)
Basically, Islamic REITs are simply Shariah-compliant REITs, which means they do not invest in properties that are associated with activities deemed unethical under Islamic law such as gambling, financial services that pay interest, hotels that serve alcohol and bars. For example, Al-Aqar Healthcare REIT (ALAQAR) is a healthcare REIT that is also an Islamic REIT. The latest REIT to be listed in Bursa Malaysia is Johor Corp.'s (Jcorp) Al-Salam REIT, which is an Islamic REIT.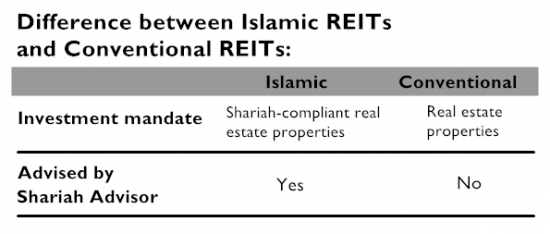 Source
Bloomberg (link)
DPH (link)
Investopedia (link)
Making Passive Income (link)
Malaysia International Islamic Financial Centre (link)
Power Reit (link)
Property Insight Malaysia (link, link)