(Note: This function is only available when viewing 'As Landlord' within the app.)
You probably have a good idea of what Landlord123 is all about by now. (If you haven't, do take a look at our quick introduction.) A property management mobile app that is designed to allow you to work from anywhere, at any time, must have features that support the core functions of managing rental properties, including the financial aspect. That's right; now we're getting to the good (read: important) part!
Landlord123's financial reporting feature is exclusively available only to landlords, or agents who are managing properties on their client's behalf. The Financial tab is only available for landlords – or more specifically, when you are viewing 'As Landlord' within the app.
Continuing from our previous Issue Management feature, you will find that the amount input for any issue for the specified property will now be included in the Financial tab and listed under 'Issues Expenses'. This indicates the amount that was used to fix issues that were reported by the tenant.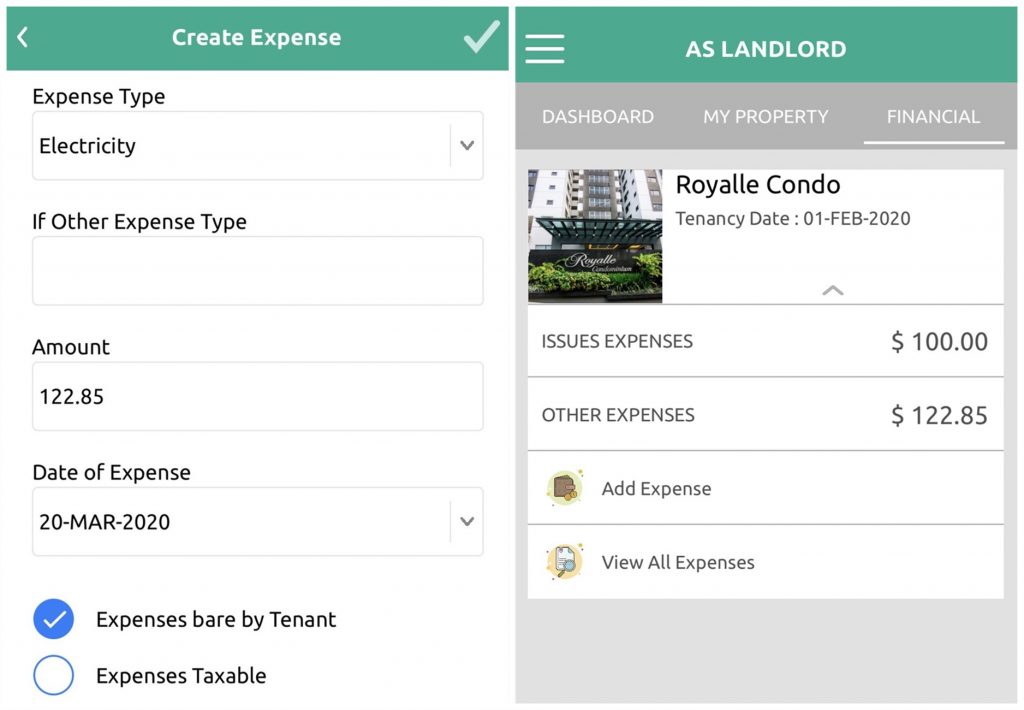 You can also include the property's utility bills (electricity, water, internet, etc) as an additional expense for record purposes, as well as indicate whether it was borne by the tenant, and whether it is a taxable expense. Once that is done, you can view a summary of the financial expenses that have been incurred for each property.
As a landlord or property manager, having a clear and concise record of expenses for each and every rental property is vital to efficiently keep track of your finances and cash flow. Of course, that includes the rental collection feature, which we will explore further in a separate post.
Check out other great features of Landlord123: