(Note: Financial Report download is only available for Professional package subscribers.)
Has your tenant ever asked for a receipt after paying their monthly rent? Or maybe the thought of issuing a receipt crossed your mind? Well, Landlord123 has recently launched its latest feature, which allows users to download their monthly rental receipts and individual property financial reports directly from the app!
As a landlord or real estate agent managing multiple properties, having a property management tool at your fingertips can help you improve efficiency, maximize profits, and increase income. Landlord123 makes it easy to carry out property inspection, keep track of property issues and expenses, in addition to providing regular rental collection reminders. The latest addition to Landlord123's ever-growing list of features is the function to generate rental receipts and financial report for each property. As a landlord or property manager, having a clear and concise record of expenses for each and every rental property is vital to efficiently keep track of your finances and cash flow.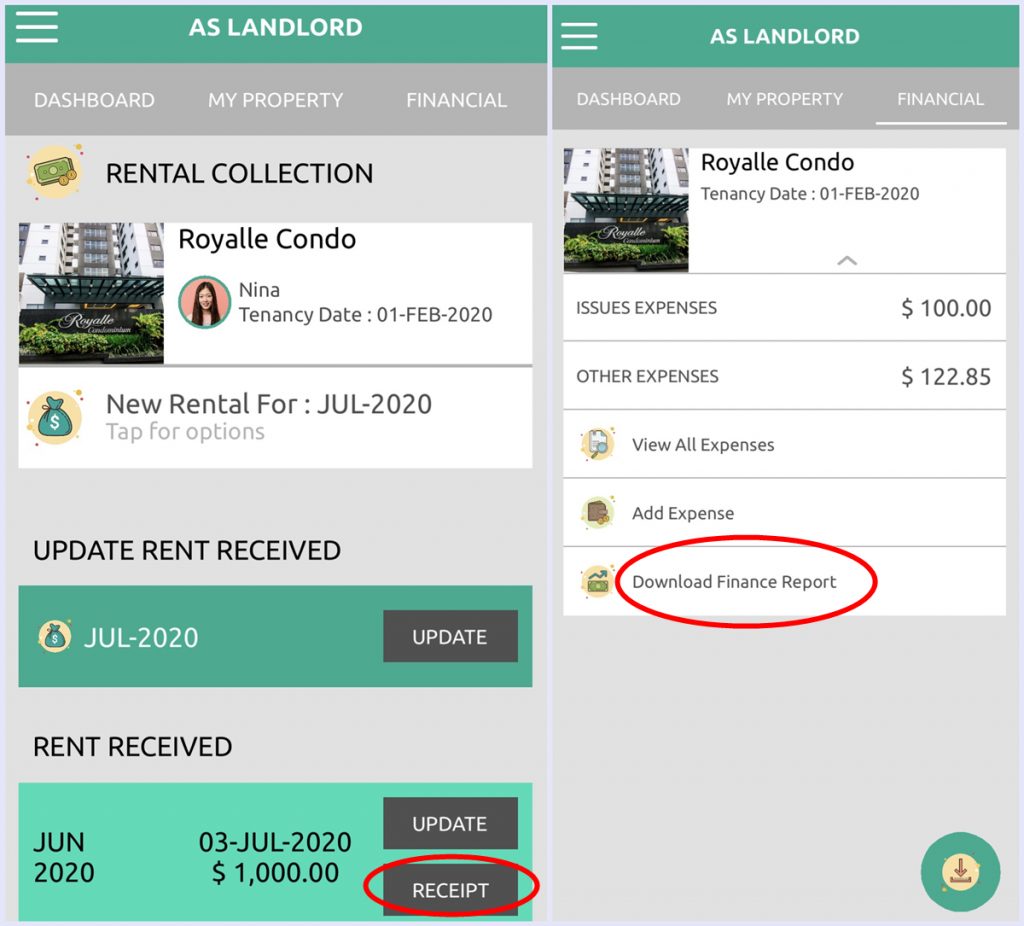 Rental Receipt
Rental receipts can be downloaded by both landlord and tenant. The receipt can be downloaded directly into your device, or emailed as a PDF file to your registered email address. From your Dashboard, go to the My Property tab and select Rental Collection for the property you want to download the receipt. From there, you can choose to download (view) or email the receipt for each month.
Months that are still pending rental payment do not have a receipt.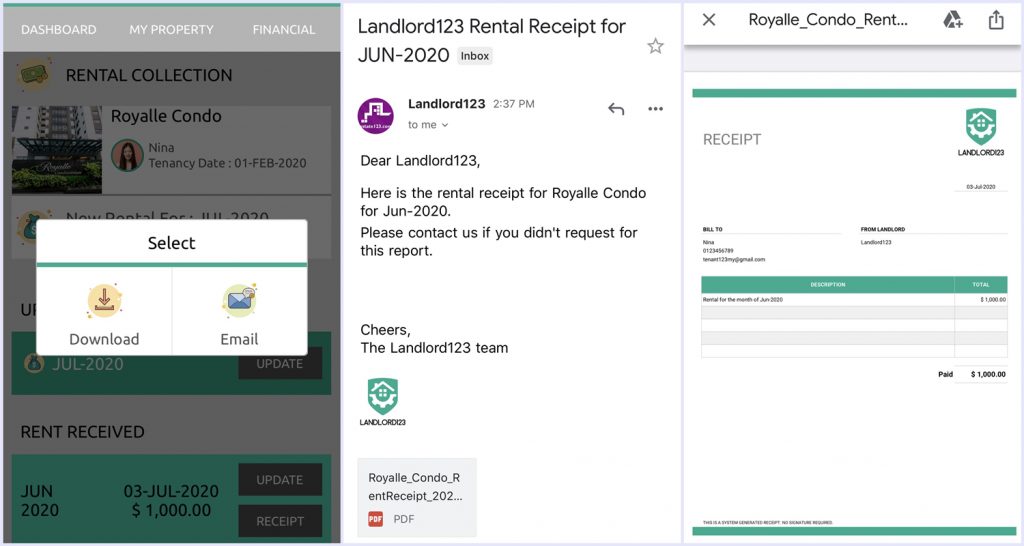 Financial Report
A concise summary of each property's expenses and rental payments can be generated and downloaded by the landlord. Similar to the process outlined above, Simply tap on the Financial tab in Dashboard, and select Download Finance Report, where you can download (view) or email the report for each property.
Only users that have subscribed to the Professional package have access to the Download Finance Report feature.
Documented proof of rental payments and an itemized list of property-related expenses are not only useful for personal records, but will likely come in handy for other formal situations, such as tax filings and loan applications. These records will provide both tenant and landlord written proof of transactions, which go hand in hand with the other features within the Landlord123 app such as images for property inspection and receipts for various repairs and maintenance issues. All these are saved within a cloud-based storage that can be accessed anytime, anywhere through the app.
Check out other great features of Landlord123: