According to Forbes, commercial real estate is an umbrella term that encompasses important parts of the market such as retail, office, and industrial properties. These properties come in all shapes, sizes, and price points. In short, any property that can be used explicitly for business purposes can be termed as commercial property.
When it comes to investing, there are two main options; invest in commercial or residential real estate. Most people will fight for one side and be staunch supporters of it. However, depending on each individual's economic situation and goals, both may be valid options.
In Malaysia, as well as many other countries, property is a lucrative investment, especially in the long run. It has also long been the general consensus that if well selected, commercial properties bring better gains than residential properties. Commercial property transactions made up 22.1% of total transactions in 3Q 2021, while industrial real estate made up 13.6%.
Buying commercial properties is usually thought to be for investors with deep pockets, due to the stigma of new commercial developments with high prices. Affordable commercial properties, however, can still be found in the market, if you know where to look. Besides some differences in maintenance fees and bills – which include utility bills, assessment fees, quit rent, and internet rates for commercial properties – purchasing a commercial property in Malaysia is almost the same as buying a residential property.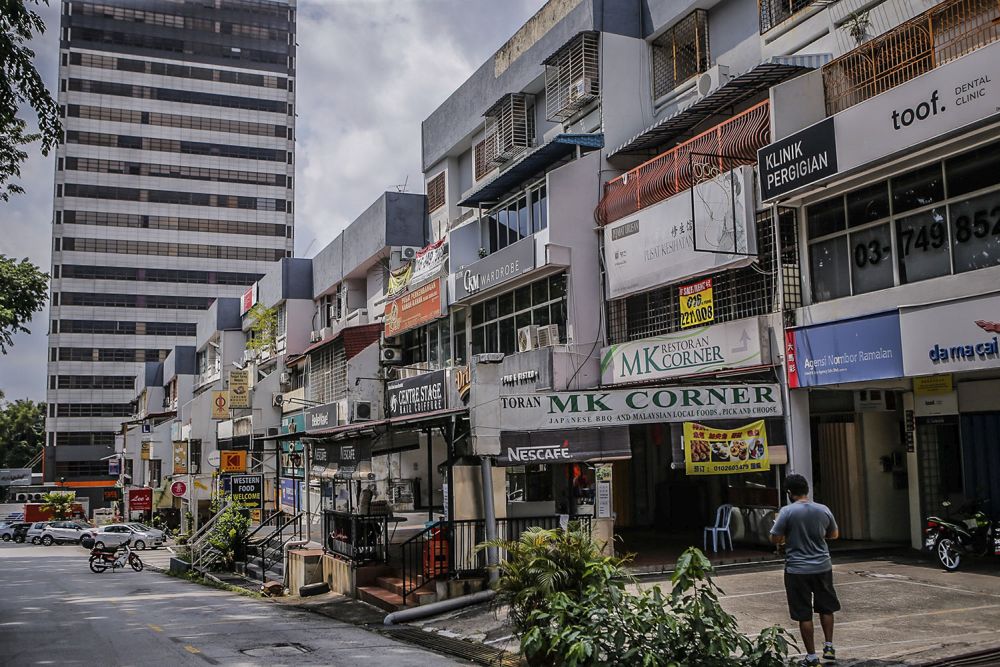 Shop Lot or Unit
Shop lots are the most common commercial property in Malaysia. Most local businesses operate out of shop-lots, including cafes, saloons, restaurants, pharmacies, convenience stores, stationery shops, boutiques, and even gyms. The traditional shop lot has always been known as shophouses, as these older buildings comprise of a shop on the ground floor while the top level serves as living quarters. Shop units are generally cheaper and provide a lower entry point for aspiring commercial property investors as they can just buy one individual floor/unit. Budding investors can look out for shops that are located near matured suburbs and residential neighbourhoods as it provides sustainable consumer demand. Besides purchasing new units and sub-sale properties for rental purposes, commercial property investors can consider an older or heritage shophouse. The latter has an added edge when it comes to F&B outlets, as these places are usually a hit with tourists and the cafe-hopping crowd.
Commercial Office
Commercial offices, officially known as Purpose Built Offices (PBOs) by the National Property Information Centre (NAPIC), are located within large multi-storey buildings and skyscrapers. PBOs are used to denote buildings that are built with office as a dominant use, where office use is not less than 75% of the net-lettable area. As of Q3 2021, privately-owned PBOs have an occupancy rate of 70.8%, while shopping malls have a 76.6% occupancy rate. A plus point for the office sub-sector is the rising wave of co-working spaces – this new office concept which calls for a flexible working environment has been gaining traction in Malaysia. Co-working spaces and open offices are becoming very popular, especially among the freelancer and solopreneur crowd, as well as modern business owners.
Factory or Warehouse
Purchasing a factory or warehouse may seem daunting for some, but for others it is a lucrative investment strategy for long-term passive income. Renting out a warehouse is a lucrative venture, as logistics, e-commerce, and small-medium businesses (SMEs) are looking for suitable locations for their storage and production facilities. Because of the sheer size of a typical warehouse, the income potential in rent from a warehouse is significantly higher than it would be for most other types of property. Additionally, rental income from warehouses is extremely stable, unlike other kinds of income streams found in an investment portfolio.
REIT
While Malaysian real estate investment trusts (M-REITs) are not technically commercial property (or even property) in the conventional sense, they are still a form of property investment that involves commercial properties in Malaysia, so we're adding them here for some variety. You can read more about the different types of REITs in Malaysia.
Despite the ongoing Covid-19 pandemic (or is it endemic now?), most people are cautiously optimistic about the reopening of more economic and social sectors 2022. The property market is expected to be on the recovery path in line with the gradual economic recovery.